Washboard Festival Begins 21st Year with Business in New Location | New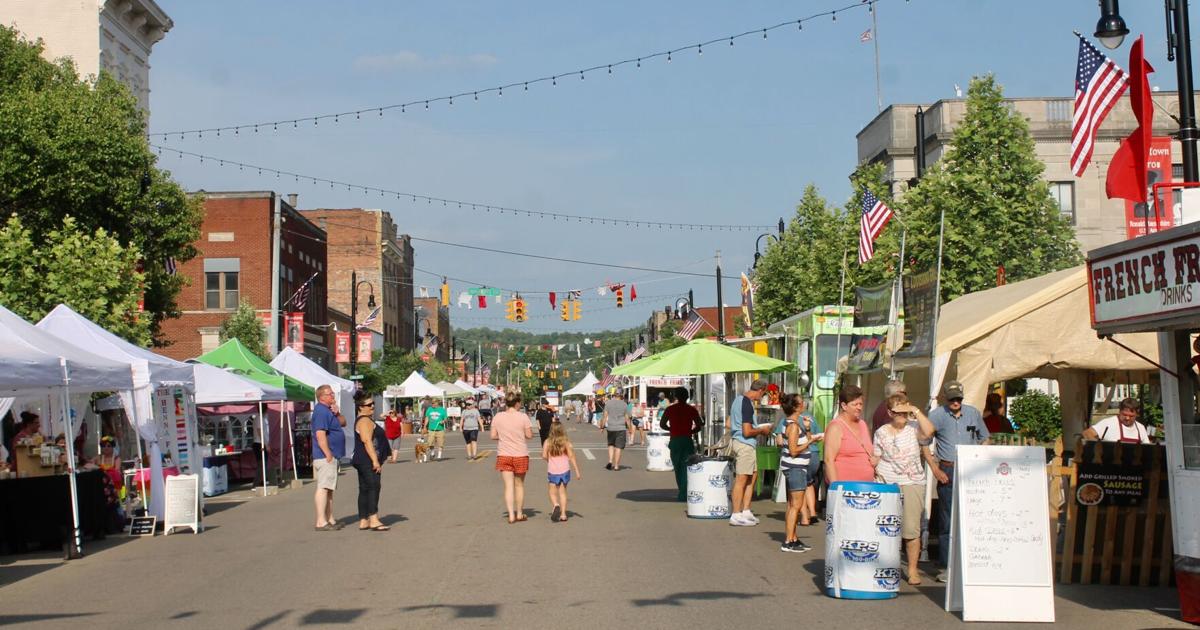 LOGAN — Despite high temperatures and the threat of extreme weather, hundreds turned out Thursday for the opening day of the 21st annual Logan Washboard Arts and Music Festival.
Held annually on Father's Day weekend, the festival celebrates Logan as the home of the last washboard manufacturing company, the Columbus Washboard Co.now at 4 E. Main St.
The Logan Daily News reported last year that the Logan Zoning Appeal Board approved a request from the washboard company to swap locations with North Fitness Center. The washboard company was originally located at 14 Gallagher Avenue and NFC at 4 E. Main St. The claim was later confirmed by the Logan City Council.
The move to 4 E. Main St. was completed this week, sources working at the stand in front of the washboard company told the Logan Daily News on Thursday. The washboard company moved from Columbus to its Gallagher Avenue location in 1999, according to Ohio Magazine.
It also became home to the "world's largest washboard," a 24-foot-tall replica of a Sunnyland washboard, Ohio Magazine reported, which still hangs outside the building. 'factory. Sources volunteering for the festival at the company's booth said the "world's largest washboard" will remain there for now, though it could be moved with the city's permission.
Washboard factory tours, however, remain essential to the festival. The new location is more condensed, so "you can see more of it" and has a bigger gift shop, said former washboard company employee Pamela Wilkinson, who sat at the booth of the company, Thursday.
"It was one of the best places I've ever worked," Wilkinson added. "Great people." Wilkinson said she visited the festival because of her experience working at the factory, even a decade later. Washboard Factory tours are available daily from 10 a.m. to 7 p.m., hourly.
With opening ceremonies at 6 p.m. Thursday and music following, locals and visitors alike welcomed the free three-day event.
This washboard festival marked the return of a man to the Hocking Hills area for the first time in 50 years, he told the Logan Daily News.
Kevin Salsbury and his wife, Joan, traveled from Michigan to stay in a cabin and enjoy the "crown jewel" of Ohio, as Kevin's last visit was when he was 10 years old, in 1972. However , the Salsburys wanted to come and enjoy gospel music at Thursday's washboard festival too, they said.
Family Heritage performed on the main stage around 6:15 p.m. Thursday night, followed by Jeff & Sheri Easter. The Salsburys said they had never heard of the Washboard Festival before, but wanted to come and enjoy Logan's "small town" vibe.
Nashaih Graham, who was also attending the festival for the first time, was a local. Although from Logan, Graham eventually felt the call to attend the festival, especially for its many vendors.
"Mostly because I really want lemonade," Graham said. "It's hot, so yeah, the lemonade looks amazing right now. Especially that; I like the little cabins with hippie stuff. The cabins, the clothes, and the lemonade.
Friday featured "Quiet Hours" from noon to 2 p.m. He then featured music including Washboard Shorty & Reverend Robert, Rebecca Lyndsay & Terry Cassady, Conner Stimmel, Steel City Rovers and Malpass Brothers.
A new and developing aspect of the festival, which started last year, focuses on the arts, The Logan Daily News previously reported. Thursday marked the start of live artist demonstrations at the Logan Monument Co., 156 W. Main St., where company president Bill Boone and seven fellow artists from around the country began working on pieces for the Saturday auction.
On Friday morning beside the monument society in the shade, several stonecutters were carving their designs; a feather, an owl and abstract pieces. Painters worked before them on the sidewalk.
Tony Watson, a stone carver and present at Memorial Artist Watson Monument Co. in College Station, Texas, said this year's event was also his first visit to Hocking Hills. At the time of the interview, Watson was carving the outline of a feather into his block of soft red sandstone.
"I've been sculpting for about seven years," Watson said. "I wanted to learn the tools to be able to repair the chips on my monuments, so if something was broken, I could fix it and clean it."
However, stone carving became much more for Watson, who appreciated the creative freedoms within the medium.
"Most importantly, it teaches you how to use tools so you can understand what tools do, what rock does, and how best to create things like this," Watson said.
Watson said he enjoys incorporating "mechanical aspects" into his work, such as gears and optical illusions. He loves the irony of carving a feather out of stone, something so light being immensely heavy; "This stuff turns me on. I like things that look out of balance. Like it's meant to fall," he said.
As one of the youngest and newest sculptors in the game, Watson pointed out that although it's a trade-type profession, stone carving is for everyone.
"Anyone can pick it up. It's just time. Everything is time. Right?" said Watson. "So whether it's photography, journalism, or accounting, it's all about time, understanding, and learning."
Other artists creating pieces live in front of audiences for the festival from 10 a.m. to 5 p.m. Friday and 10 a.m. to 3 p.m. today, Saturday: Dave Shull, painter and co-owner of Logan's own Vintage en Vogue, at 45 W. Main St.; Darren McGrath, a painter from Lancaster, Ohio; Sue Andrews, an artist from Dublin, Ohio; Jim Peterson, an artist and stone carver from Egg Harbor City, New Jersey; Daniel Giroux, a stonemason from Hudson Falls, New York, with his daughter, Rachel, a future teacher.
According to its website, the festival also offers free activities for children, including a bouncy house; educational presentations by Logan Police and Fire Department, Hocking County Emergency Medical Services, Professor Bubblemaker, face painting, balloons, Chuckie Choo Choo train rides, festival signing, tours of the Logan Theater & Community Arts Center, at 84 E. Main St., a Friday night cruise, music at The Piano Works Art Gallery, 48 W. Main St., and a quilt show at The Bowen House, 196 N. Market St.
Schedule of events for today, Saturday June 18:
11:30 a.m. Rebecca Lyndsay and Terry Cassady on the Spring Street Stage
12 p.m. Fun Bunch Cloggers on the main stage
12:30 Barefoot McCoy at
the Mulberry Street stage
1:00 p.m. Scenic Hills Senior Center Choir at Main Stage
1:30 p.m. Eric Nassau at the Spring Street Stage
2:00 pm Rebecca Lyndsay & Terry Cassady on the main stage
2:30 p.m.
sh Carpenter at the Mulberry Street Stage
3 p.m. Goldsberrys on the main stage
3:30 p.m.
Mr. TJ Grembowski at the Spring Street Stage
4 p.m. David Church
on the main stage
4:30 p.m. Nicole Dicken on the Mulberry Street Stage
5 p.m. Art auction on the main stage
5:30 p.m. Payton Wallace and John McClain on the Spring Street Stage
6pm Chet Atkins Fingerstyle Review on the main stage
7:00 p.m. 7 Mile Bluegrass on the Main Stage
More information about the Washboard Festival can be found on its website, washboardfest.org.