Testing sites forced to close, wait times swell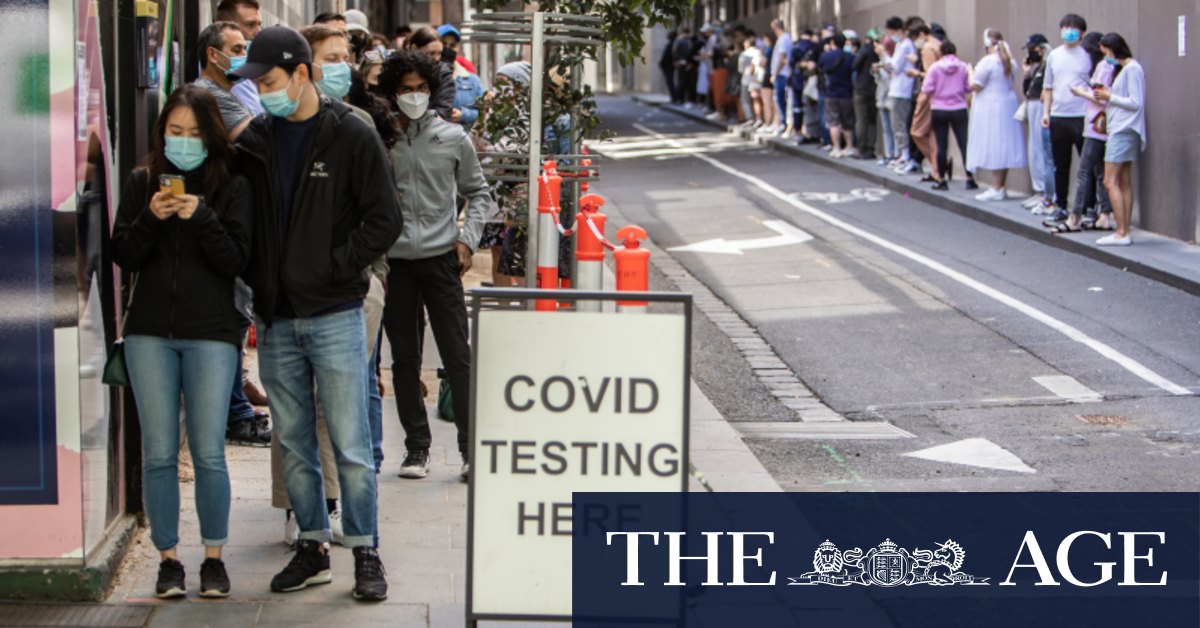 Queensland Premier Annastacia Palaszczuk said earlier the state could consider allowing rapid antigen tests instead of PCR tests from January 1, while Premier Scott Morrison said the tests would be examined in the national cabinet.
"One of the main reasons we have these queues in Victoria and NSW is that you have people who need to have PCR tests before traveling to other states. Now this needs to be looked at," the prime minister said.
"Rapid antigen testing in these situations would certainly be a more effective option."
Mr Weimar also urged Victorians to use rapid antigen testing proactively when asymptomatic before attending events, for example.
He said the average wait time at state testing sites on Tuesday was 71 minutes, when a record 92,262 COVID-19 test results were processed.
"The reason we are suspending new people entering test stations [is] we don't want people queuing for four or five hours where we can possibly avoid that," Weimar said.
He said the state could cope with an additional capacity of a few thousand people before they are overwhelmed.
Victoria Health Opposition spokeswoman Georgie Crozier said governments should consider allowing travelers to use rapid antigen tests as a screening tool to ease the burden on PCR testing sites.
"[Lengthy queues at testing sites] is a lack of planning on the part of the Andrews government in the run up to Christmas because we are reopening and people want to spend time with family and friends to get tested, and they just can't," said Mrs Crossier.
Victoria records 1,503 cases, six deaths
Victoria recorded 1,503 new cases of coronavirus on Wednesday, bringing the total number of active cases in the state to 13,888. Six people have died from the virus.
There are 394 people hospitalized in Victoria with COVID-19. Of these, 114 people are in intensive care: 70 are active cases of COVID-19, while 44 have been cleared of the virus and 41 are on a ventilator.
Loading
Victoria's vaccination rate for over-12s stands at 92 per cent after another 17,443 people rolled up their sleeves to receive a shot at a state-run vaccination centre.
NSW recorded 3,763 new cases of COVID-19 on Wednesday, a new daily record during the pandemic and two deaths. It eclipsed Tuesday's numbers by 3057 new cases of COVID-19 and two deaths.
Mr Weimar said more than 350,000 Victorians had received their booster shots, but another 400,000 were eligible to get them.
There were about 20 clinics across the state offering Pfizer or Moderna boosters, he said, and officials were bringing more state-run centers online to help with the rollout in early January.
Omicron cases in Victoria rise
Victoria now has 61 cases of the Omicron variant of COVID-19, all of which were in isolation. Mr Weimar said they were all international arrivals or close contacts from the Newcastle and Sydney clusters. Thirty contracted their infection overseas and 31 in Australia.
The number is up from a total of 37 cases on Monday, after Victoria recorded no new cases of the Omicron variant on Tuesday.
"We're obviously concerned about the cases we're seeing continue to rise…in New South Wales, and given the high level of movement between our two states, we expect to see cases of Omicron continue to spread here. , which means it's down to all of us to stay on top of these basic COVID safety measures," Weimar said.
"If you are indoors, wear a mask. If you're going to gather with people…if you can do it outside, please do it outside.
"If you're going to be inside, open your windows and enjoy the great weather we're enjoying right now."
The Prime Minister interrupts his leave to attend the national cabinet
Premier Daniel Andrews will briefly return from leave to attend a national cabinet meeting on Wednesday, after Premier Scott Morrison called the urgent meeting to discuss the Omicron variant, mask mandates and COVID-19 booster shots .
Neither Mr Andrews nor caretaker Prime Minister James Merlino is expected to provide an update after the meeting.
However, a Victorian health official, speaking anonymously to detail confidential considerations, said restrictions on high-risk indoor events such as Rod Laver Arena closed-top matches could be a measure. non-invasive to provide a public health benefit.
Reducing the interval between second COVID-19 vaccine doses and boosters will also be discussed at the national cabinet on Wednesday.
With Rachel Clun, Paul Sakkal, Sumeyya Ilanbey, Dana Daniel and Lucy Carroll
Our latest news alert will be notify you important breaking news as it happens. Get it here.