Huntsville Balloon Artist Participates in Indiana Fundraiser | New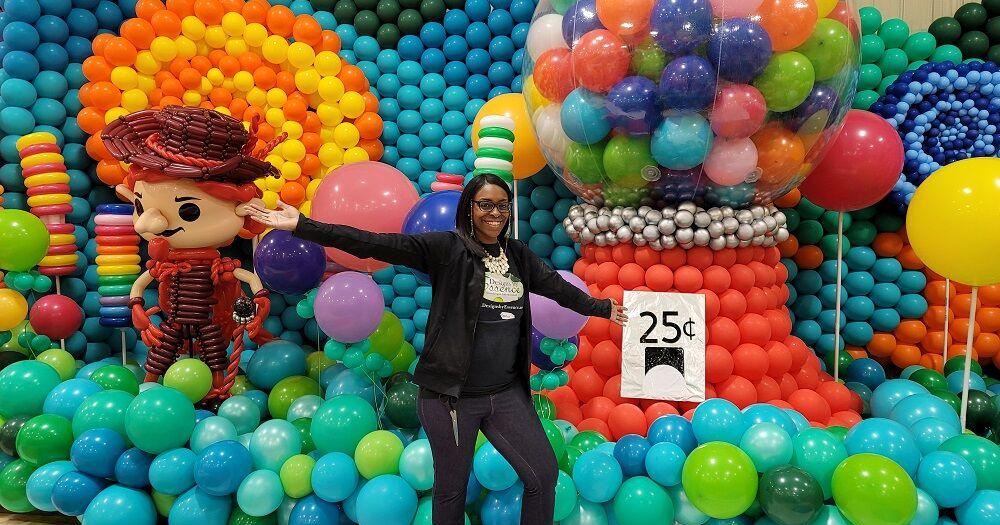 Thousands of balloons have been artistically arranged to form Hasbro's Candyland board game, King Kandy's castle and board game characters, a Hershey's candy bar and other designs, all for a good cause.
The creators are known as balloon artists.
Among their ranks is Essence Nesbit, a police records clerk for the garrison operations directorate. She attended the Big Balloon Build event from April 4-8 at the Highland Woods Community Center in Vincennes, Indiana. Sixty-five artists from across the US were in attendance along with some from the UK, Cayman Islands, Canada and Scotland.
"I've been making balloons officially since April 2018," Nesbit said. "I've always decorated for my daughter's parties; however, as I was completing my Masters in Logistics, I wanted to do something fun and for me. Something that would also bring joy and excitement to others. I've met so many great people along the way.
It was the first such event in the US, but it was done in the UK, according to Nesbit. "It was the first of a few planned in the United States."
In total, the artists used 125,000 balloons.
"It was a community event to help raise funds for United Way of Knox County in Vincennes, Indiana," Nesbit said. "They raised $65,000, which was matched by the Eli Lilly Foundation. They also collected 14,300 pounds of food for the nine local food banks.
Activities included a balloon fashion show on April 8 as part of a fundraiser for the United Way. They opened the construction to the public on April 9 so that people could come in and enjoy Candyland. The Easter Bunny was also there for photos.
Nesbit, 31, has a business in Huntsville called Designs by Essence. She makes balloons for grand openings, ribbon cuttings, weddings and birthday parties. Her daughter, Patience, 12, helps her.
The Huntsville resident has worked at the garrison since 2007.