Hot Air Balloon Festival back today at Terre Haute Regional Airport | Local News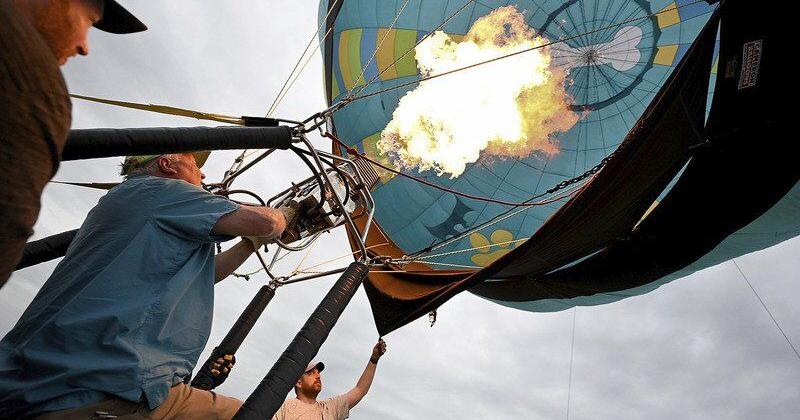 Heyli Mattingly is an absolute hot air balloon enthusiast and Friday was her birthday. So you'd think the weather would give the Terre Haute resident the gift of clear skies so she could fully enjoy the Terre Haute Hot Air Balloon Festival at the airport.
"Yes!" she agreed, adding with a laugh, "I prayed."
Alas, the weather was uncooperative Friday evening – four of the five balloons were fully inflated for less than 45 minutes.
"I love hot air balloon festivals – I used to go there when I was a kid," Mattingly recalls. "So it brings back all the memories. It's my favorite thing in the world. Night glows are the most beautiful things."
In the past, Mattingly has ridden in a tethered balloon – one that stays connected to the ground, rather than hovering in the open air. His attempt to do a full lap last year was called off due to weather conditions.
"And today is what is so sad," she lamented.
Others, however, did not consider the first night of the hot air balloon event, which continues today, a failure. Cody Bender had traveled with his family from Marshall, Illinois to attend.
"It's really a great event," he enthused. "A lot of cool things are happening, the kids had a great time seeing it all."
But don't try to get him on a ball.
"I'm terrified of heights," he admitted with a laugh. "I don't know if I could be successful at any of those things."
No problem for Kevin Netherlain from Terre Haute: "I would like to get on a balloon, but the queue is really long.
He was with Katrina Burns from Brazil, who said, "I'd go up there even if I'm dizzy."
The general consensus among the participants was that their favorite ball was called Wagz, which sported the friendly face of a smiling dog. Wagz's owner and pilot is Dean Carlton of Danville, Illinois, who came to the hot air balloon show because, he said, "it's a brand new event, so we want to make sure it runs good."
Abby Carlton is from Terre Haute, but she married into Carlton's balloon family and helped inflate Wagz. She described her hot air balloon experiences: "It's quite light when you're standing up. It's very surreal. It's a floating feeling."
Dean Carlton was president of the Balloon Federation a few years ago. "This speaks for the entire hot air balloon community," he said of the organization. "We work with federal regulators and security officials. We're very active in security training." The Federation also cooperates with the International Ballooning Competition, which ended last week in Slovenia.
Initially, Wagz was inflated with a high-powered fan. Then a device atop the balloon's basket, called a burner, projected flames into the balloon, or "envelope," as the professionals call it.
"We push a lot of air into the envelope and then heat the air with the burner, which makes the air less dense," Carlton explained. "The molecules hit harder, so there's less weight and that's what makes it float and gives it lift."
Due to the weather, Carlton had no intention of letting Wagz leave the mainland. However, another balloon, BalloonWOW owned by Midwest Balloon Rides, rose several times, the only one of five at the festival to do so.
Between bursts of the burner, Carlton recalled his first balloon flight.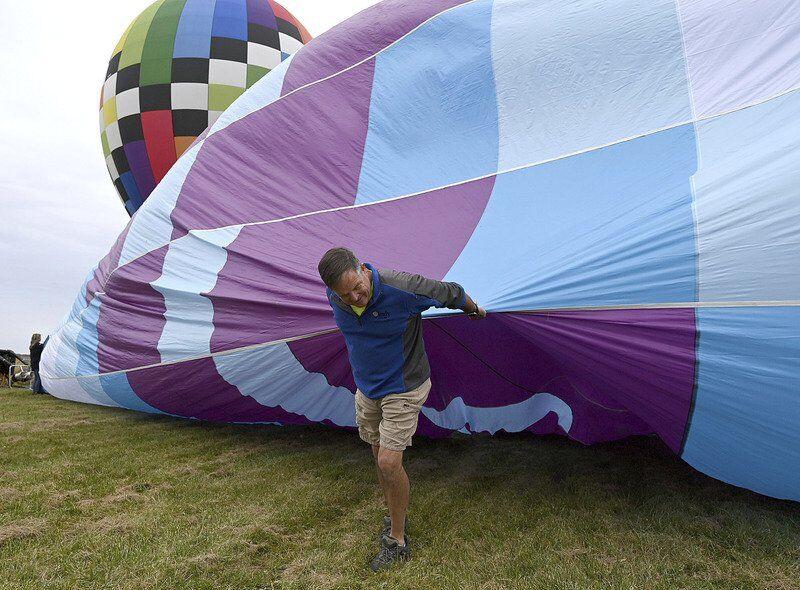 "That first flight, you're going up about 20 feet and you have laughter in your stomach and it's a feeling that's hard to describe," he said. "I've flown over 925 hours in almost 22 years of flying. At 25 feet I still have the giggles in my stomach like I did the first time. It never went away and I I'm delighted."
The festival is organized by Chances And Services for Youth. It continues from 5 p.m. to 10 p.m. Saturday at the Terre Haute regional airport. Tickets are $20 for adults and $10 for children ages 7-12. Tickets are non-refundable.
Attendees will be able to see the balloons and baskets up close and personal as they are tied low to the ground as the sun shines. Customers can visit food trucks, browse vendor booths selling arts, crafts, and apparel, and listen to live music from The Big Fun Band, Free:15, and The Antidotes.
A children's area will feature inflatables, a rock wall and a spider jump – a trampoline on which bouncers are safely strapped.
Hot air balloon rides begin after 5 p.m. weather permitting. The Balloon Glow party will begin at dusk and is, again, subject to weather conditions. By the light of a balloon, the balloons are inflated as if they were going to rise but are maintained by the crews.
David Kronke can be reached at 812-231-4232 or david.kronke@tribstar.com.